WHITE PAPER
Four Essential Reports for Inventory Optimization
This guide to four must-have reports will allow you to quickly organize and attack any inventory optimization initiative.
With these reports in your toolkit, you'll be well-equipped to achieve your inventory reduction and on-time delivery goals. Download the white paper to learn about the reports you need to get total visibility into current and future inventory and shortages, optimize order policies and target inventory levels in your ERP, uncover the biggest opportunities for inventory improvement, and see what your potential on-hand inventory value could be, once optimized.
Featured Customers
We work with a lot of discrete manufacturers across different industries. The main thing they have in common: create a sustainable approach to supply chain execution with a single source of truth for inventory data and KPIs across sites, ERP systems, business units, and product lines.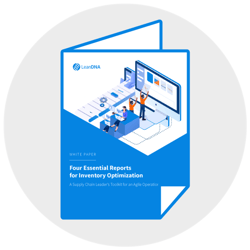 The right part. In the right place. At the right time.
Turn your plans into action by connecting the people who execute with the priorities that matter.
Learn how you can increase output and productivity through effective supply chain execution.