GUIDE
5 Tips for Remote Inventory Management
Best Practices for Managing Inventory Operations in Distributed and Remote-Working Teams
Working remotely is challenging on its own, but when coupled with the widespread supply disruptions facing manufacturers today, it can make the daily work of supply chain professionals even more hectic.
This guide offers five best practices to help teams foster collaboration and keep tracking toward inventory optimization and shortage reduction goals—even when you can't meet face to face.
Featured Customers
We work with a lot of discrete manufacturers across different industries. The main thing they have in common: create a sustainable approach to supply chain execution with a single source of truth for inventory data and KPIs across sites, ERP systems, business units, and product lines.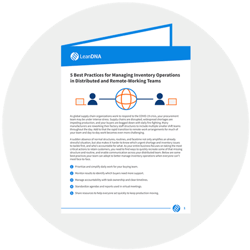 The right part. In the right place. At the right time.
Turn your plans into action by connecting the people who execute with the priorities that matter.
Learn how you can increase output and productivity through effective supply chain execution.