WHITE PAPER
5 Inventory Reduction Strategies for 10% Improvement in 90 Days
In this executive white paper, we recommend five best practices for inventory reduction.
If you're looking for simple, effective ways to reduce inventory, these recommendations will help you define inventory targets, optimize ERP order policies, free procurement teams from spreadsheet-driven processes, and secure time to execute results-driven actions that will impact the financial performance of your business.
Featured Customers
We work with a lot of discrete manufacturers across different industries. The main thing they have in common: create a sustainable approach to supply chain execution with a single source of truth for inventory data and KPIs across sites, ERP systems, business units, and product lines.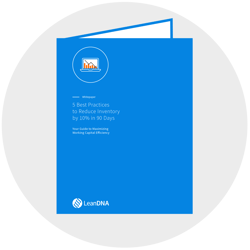 The right part. In the right place. At the right time.
Turn your plans into action by connecting the people who execute with the priorities that matter.
Learn how you can increase output and productivity through effective supply chain execution.